Oslo Innovation Award 2015 to GELATO GROUP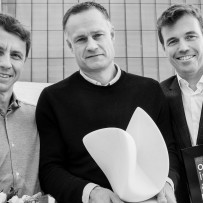 Photo from the opening ceremony of Oslo Innovation Week in Oslo Opera House October 12, 2015.
Snøhetta, the architect of Oslo Opera House, got the award 2014
I am proud to be a part of this successful initiative from Oslo Business Region by making the award in white Statuario marble every year since 2008.
Photo Gorm K. Gaare.