NEWS
Ytterjärna Forum, November 21, 2018 by Anna Gran
Kultursidan Nu, Norrköping February 15, 2018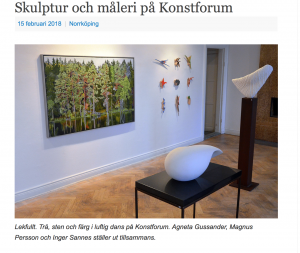 Norrköpings Tidningar, Sweden, February 4, 2018
Sörmlands Nyheter, Sweden, October 20, 2017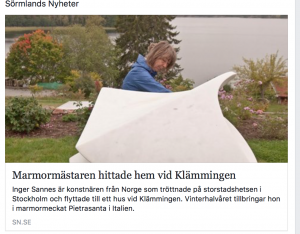 September 18, 2017, Perspektiv, Klassekampen, about the exhibition at Holmsbustuene, Norway.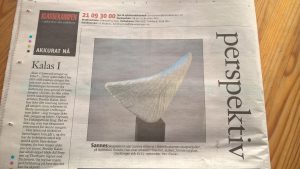 November 15, 2016 Norwegian Embassy in Rome.
February 14 and 19, Uppsala Nya Tidning (UNT), the Ice Festival "Tusen Vintrar" in Uppsala, Sweden.
August 15, 2015 press articles from the inauguration of TIDVATTEN (Tide) and the new Sculpture Garden for children in Söderköping, Sweden;
1) Kultursidan Östergötland
2) Folkbladet
3) NT
December 8, 2014 The Norwegian Embassy in Stockholm about the exhibition at Edsvik Konsthall
September 16, 2014 Newport News Public Art Foundation published this article about my work on Facebook.
Elements and Newport News Public Art Foundation in US Airways – August 2014
19 March 2014, interview by Museo dei Bozzetti in Pietrasanta during the exhibition Donna Scultura.
Film from my recent work at Studio Sem and the exhibition Donna Scultura.
The 12. edition of the exhibition Donna Scultura in St Agostino, Pietrasanta, Lucca Region, Italy
The four artists were selected after a competition by the new curator group;
Chiara Celli och Valentina Fogher, Pietrasanta,
Maria Teresa Tosi, director of the Foundation Museum "Marino Marini", Florence,
Rossana Sebastiani, head of culture in the Regionen of Lucca, Toscany.
TV4 Nyhetsmorgon, Sweden.