BIRTH in Mariefred from June 5 to August 30, 2019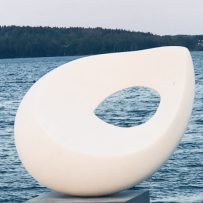 With BIRTH I want to express the new era we just are about to enter.
BIRTH is always risky and often painful, but will also give an opportunity to be connected to the deepest meaning of life.
The sculpture is made of Afyon marble from Turkey and can stand outdoor in the Nordic winter climate. The base is made of black sandblasted granite. The sculpture and the plinth weigh together approximately 600 kg.

and enclosed some photos of the model in Statuario marble.